This offer available via phone only.  To order, call Neal at 303.848.8381. Or call me direct at 303.848.8385  *(Limit of 5 Free Pioneers in this offer. Valid only on new orders)
Perhaps we have gone a bit mad with Halloween and October, but we are doing this anyway.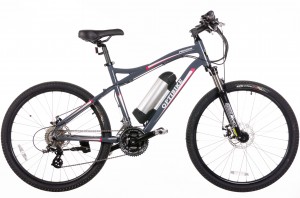 We have decided to give you a Pioneer Allroad or Pioneer City for free with the purchase of a popular Optibike R8HD or R11. (Free bike limited to first 5 orders)
This is a great chance to have two bikes for the price of one, so you and partner or friend can ride together.

Let's ma
ke this even more crazy!, For the  first 2 people to order, we will throw in an extra, $695 range doubling battery, FREE, so you can ride together for longer.
This is also a great way to get an amazing Christmas present for Free. If you have a child in college, the Pioneer is a great bike for them to ride to campus on. The Pioneer has so many uses.
Electric Bike Review loves the Pioneer Allroad. Read their impressions here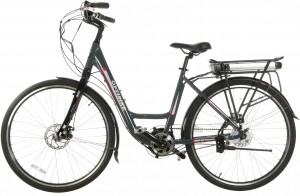 Both the Pioneer and R11 are changing lives, giving people mobility and freedom they often haven't felt in years. See how below.
R11 Lets Bob Climb
I am amazed at the hill climbing ability of the Optibike R11. I have a 1 ½ mile hill with a 1000 feet ascent. I am able to get up this hill at 16 mph to 20 mph with pedaling. Without the Optibike, I wouldn't be able to get up the hill on a road or mountain bike. The Optibike R11 is a true revolution in cycling, transportation and sustainability, and has indeed transformed my life and mobility.
Bob, Utah
Pioneer Allroad Lives up to its Name
I've used the Pioneer Allroad on steep jeep trails, exploiting the lowest gear ratio and enjoying the front suspension. I've also gone all over town on bike paths, where I feel rather stealthy. Most people I pass think it's just a mountain bike — with a strong rider — because the frame looks "normal", and the motor noise is very, very quiet.
All components on the Pioneer Allroad are well-matched to achieve a perfect balance of performance at a reasonable cost. The tires, the gearing, and even the seat, grips, and pedals match the "all roads" goal: the bike works great for commuting and shopping, as well as mountain roads and trails
Bob G. Colorado
Rhonda Finds New Freedom with Pioneer Allroad
I've had it now for almost a month and could not be happier.  I am in love with my Pioneer Allroad! For the past year, my regular bike has seen very little use, since we've been living in the western US where there are hills and mountains everywhere. I am 64 years old and was completely intimidated by those hills and mountains when it came to bike-riding. I am happy to say that is no longer true. I have acquired my freedom! This bike is everything promised, and then some.
Rhonda C. USA
I wish everyone great riding and I hope you have a chance to take advantage of this great offer.
This offer available via phone only.  To order, call Neal at 303.848.8381. Or call me direct at 303.848.8385  *(Limit of 5 Free Pioneers in this offer. Valid only on new orders)
Jim Turner